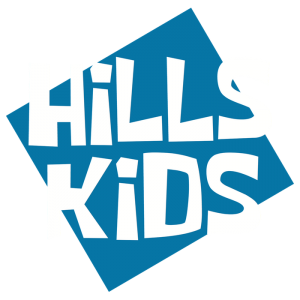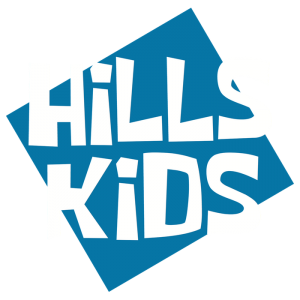 Who Are We?
Hills Kids is a place where children are valued and where they have the capability of experiencing God in profound ways. Whether it is through worship, lessons, games or talking one on one with a Hills Kids leader, each week our children are learning something new about God and being part of His family. What an amazing privilege we have been given to help lay a Godly foundation in their lives and to show them the joy of knowing Jesus!
Three groups run currently during the morning sermon (kids are dismissed part way through the service).
Sunday Service @8:30am & 10:30am:
Check-in for the 8:30am or 10:30am Service is at the welcome desk, just outside the auditorium as you arrive. Using Electronic Check-in, we now offer added security to help keep our precious kids safe. You can meet one of our welcome team who can check-in your children for you. Once checked-in, a label will be printed for each of your children and one for yourself. Please attach this to your child's back and keep the other one for yourself in a safe and easy to access place. The label contains a security code for each of your children and will be used to call you during the service if you are needed to attend to your child.
You will also need your label to pick up your children at the end of the service.
When the children are invited to leave the service for Hills Kids, please deliver them to the leaders that are waiting outside the main doors. Three groups with age appropriate teaching are run concurrently.
What is Hills Bubs?
Hills Bubs is a special place we have set aside for you and your child aged 6 months – 3 years during our morning service. We have room especially catered for your little one, staffed by loving, caring volunteers who will give your child all the love and care they need so you can continue to enjoy the worship and teaching.
Hills Littlies
Children 3 years to prep.
This group involves teaching, play and games.
Hills Jnr Kids
for children in grade 1-3. This group involves teaching & games.
Hills Snr Kids
for children in grades 4 to 6. In a relaxed setting where children will encounter different Bible study methods to discover who Jesus is.
Hills Youth is open for anyone from grades 7–12 (Grade 6's join us in their last term of the year). We meet Friday nights 7–9pm (check our program for differing times and locations) at the church and other various locations and have huge amounts of fun together. Hills Youth is a place where we value learning to know and worship God. We also value the Bible and seek to grow deeper in our understanding and knowledge of the Word.
Young Adults is open for anyone who is no longer in high school up to the age of 30. We are a fun, dynamic ministry, that we know you'll enjoy! Our purpose is to grow together, fellowship with each other and have some good, clean fun! Hills Church seeks to support and encourage you in this season of life. We do this through social events, small group time and serving together. Follow our Facebook group (Hills Young Adults) to stay up to date with upcoming events.
Contact Pastor Adam for more information.

The Men's Ministry aims to support the men of Hills Church by:
-Training men as disciples of Jesus.
-Encouraging men to greater levels of faith and service.
-Providing opportunities for non-Christian men to be part of the Hills Church community.
It does this through men's events, discipleship groups, and men's pastoral support.